Accent Consulting Celebrates 20 Years!
Published: August 31, 2022
In celebration of our 20th Anniversary, Accent Consulting hosted a ceremonial ribbon cutting and Greater Lafayette Business After Hours networking event. We would like to say a huge THANK YOU to everyone who came out to celebrate with us and show their support! It was an amazing day filled with fun, games, live music, good food, and great company. Accent is so grateful for genuine support from our team, friends, families, clients, and the greater Lafayette community! We are proud to be supporting the Lafayette, Fort Wayne, and Indianapolis communities over the last 20 years and we eagerly look forward to the future. 
Accent Consulting has become a globally ranked leader in IT support for businesses looking to increase efficiency and scale their growth. In the last 20 years, Accent has consulted with thousands of businesses and currently services organizations across 20 states and 7 countries. We specialize in various services, including managed and co-managed IT services, cyber security, compliance, and cloud solutions. Accent is proud to maintain a 99.05% customer satisfaction rating and lead the industry on response and resolution time with average email response rates under 10 minutes and 81% of tickets resolved in under 24 hours.
Our goal since founding has been to provide our customers with the best technology solution for their needs while serving them with the highest level of customer service. We believe our customers deserve open communication, quick response times, and fair pricing.
We are committed to being your trusted partner for IT solutions.

Accent Consulting was founded in 2002 by Phil Wright – his IT support business had grown enough through word-of-mouth and referrals. He opened his first office in Lafayette, Indiana and hired his first full-time technician in 2004.
By 2007, Accent received their first Microsoft achievement: their Freeport VM video email application was certified for the Microsoft Windows platform. Shortly after that, they were awarded Microsoft Certified Partner status with Competencies and Specializations in ISV and Software Solutions.
In 2008 Accent achieved the highest level of certification from Microsoft, Gold Certified Partner status. Accent also earned the Microsoft's Networking Infrastructure Competency, confirming Accent's expertise in network design, implementation, management, and support. This qualification certifies Accent's knowledge in multiple Windows Server Solution environments.
In the fall of 2016, Accent opened its second office with local IT technicians and sales consultants in Fort Wayne to support our clients in north east Indiana. By 2021, Accent expanded its team and offerings with the launch of its third office location in Indianapolis. With a key focus on cyber security, Accent successfully scaled up efforts on business security and paved the way in securing how our clients conducted business in the ever-changing digital economy. Our efforts were recognized by the industry when they were named as one of the world's premier managed service providers in the prestigious 2021 Channel Futures MSP 501 rankings.
Thus far, 2022 has been eventful for Accent Consulting. In February of this year, Accent was certified as a CMMC (Cybersecurity Maturity Model Certification) RPO (Registered Provider Organization). This means that we are able to provide advice, consulting, and recommendations to clients that require CMMC compliance, which is used for contractors of the Department of Defense. In May, Accent was recognized as the #15 globally-ranked MSP in the 2022 Channel Futures MSP 501 rankings, as well as #1 in Indiana for the second year running.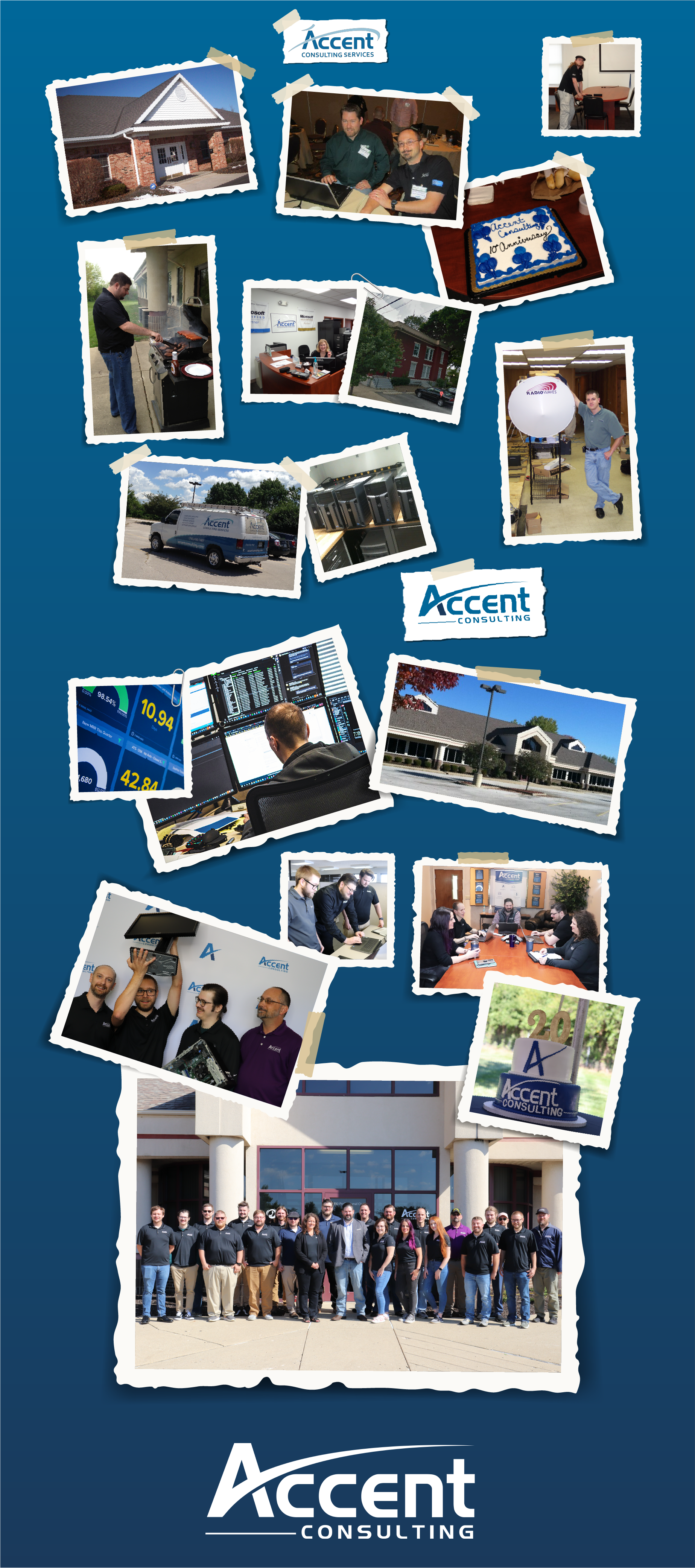 Schedule a Free Network Assessment
A network assessment is an in-depth analysis of your current IT infrastructure that provides you with a comprehensive understanding of your existing environment and recommends improvements such as network consolidation, simplification, or automation.
Learn More
With Accent, one email or call is enough to remove the burden of IT problems. The reachability and responsiveness of the staff continues to exceed expectations and the employees actually care about helping their clients (and do so with speed and effectiveness). Hire Accent, they're excellent at meeting the needs of their clients with flexible service and most definitely worth the investment.
We started using Accent Consulting for our IT needs this past year. Their professionalism and attention to details are excellent! I would recommend this company to anyone!
I want to thank the team at Accent Consulting for truly listening to my needs and developing a plan to address them. The new server migration was perfect!
They were very prompt and knowledgeable. They did great, answered my questions and dealt with my concerns. We will continue to do business with Accent Consulting.
These folks did a GREAT job setting up our dedicated fiber line! Very professional and efficient. Highly recommend this company for all your IT needs! We liked them so much we decided to give them all our business in the future.