What you need to ask when
Hiring an honest, competent, responsive and fairly priced consultant.
21 questions you should ask any IT support consultant before giving them access to your company's network
What Every Business Owner Must Know About Hiring an IT Consultant
Don't Trust Your Company's Critical Data and Operations to Just Anyone! This Business Advisory Guide Will Arm You With 21 Revealing Questions You Should Ask Any IT Support Consultant Before Giving Them Access To Your Company's Network
Some of the questions we'll answer in our 21 Questions Guide:
Do they answer the phone when you call?

Do they have a written guarantee?

Do they monitor your network 24/7?

Do they provide regular reporting?

Do they back up your data and keep it secure?




And SO MANY MORE important questions…
Here's an embarrassing (and little known) fact about our industry: it is not regulated.
That is why it's so important for you to arm yourself with the information contained in this guide.
Thie information in this guide is provided to help raise standards within the IT industry, and to give YOU useful information to help you guard against the lack of ethics or incompetence of some companies and technicians.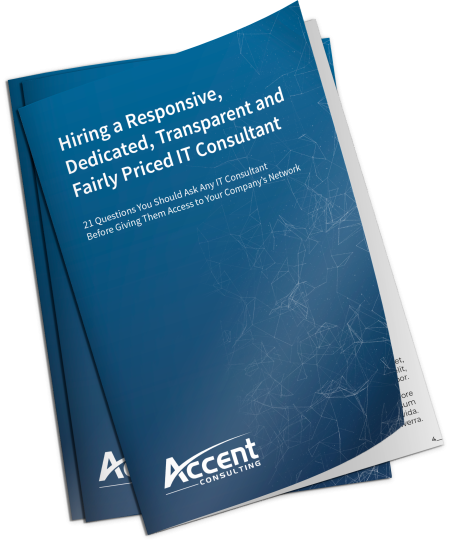 Download our Guide To Hiring an IT Consultant