Support for Your IT Department
Accent Consulting is There for Your
 Internal IT Department
Accent Consulting is a perfect fit for your business if you already have internal IT.
With Co-Managed IT Services, we don't replace your IT team – we give them a boost.
With co-managed IT plans, we assist & support your IT department with technical expertise, strategic planning, tools, personnel, and other resources.
The chances are high that your company's IT department is overworked and struggling to keep up with all your daily operational needs. As your technology needs grow, so does the need for specialized IT reinforcement.  
Together, we can create efficiencies with your in-house IT team by streamlining your back-office IT functions.
As a strategic partner with your IT Department,
Accent Consulting can help you plan ahead, increase productivity, and accomplish more!
What are
Co-Managed IT Services
Cyber Security, Desktop Support, Systems, Backup and more – We offer multiple solutions to support IT departments large and small.  
With Accent Consulting, you will have a trusted IT partner
that provides instant access to a peer group of experienced & certified IT professionals. 
We have the people, the technology, and the processes in place to reinforce your internal IT department with back-office support.
Keep your network secure through Accent's security operations center. Our certified SOC technicians have the knowledge, tools, and framework to keep your business network secured and monitored against the latest threats. We're a CMMC Registered Provider Organization and our certified team has the knowledge, tools, & framework to keep your business network secured and monitored against the latest threats. 
Help Desk / Desktop Support
Let our certified technicians help support the day to day for your end users so your IT Department can focus on high value projects. Our phones are answered live from 7am to 6pm Monday through Friday and our emergency line is available after-hours, including on weekends. We lead the area in exceptional support response time including a 70% proactive resolution of desktop issues.  In addition, 81% of customer reported desktop issues are resolved in less than 24 hours and our response to email support is 13 minutes or less.
We are a certified Microsoft Gold Partner with extensive experience in enterprise-grade on-premise servers and cloud-based systems. We're experts in Microsoft Hyper-V, VMware, and cloud based systems such as Azure & AWS.
End to end support available from our team of certified technicians. From Network Routers/Firewall, Managed Switches, Wireless Access Points, VoIP Systems, Security Cameras to Network Appliances – we can assist your team in upgrading & managing any network device.
Does your IT department need assistance with special projects? Our team of peer experts can assist. We've helped countless customers with one time projects, server migrations, software development and more!
HIPAA, NIST, CMMC, PCI, SOX – Our top certified team of cyber security experts can help your company meet federal compliance guidelines. Our cyber security packages also come with our independent risk assessments to help businesses with cyber security insurance compliance & requirements. 
FREE REPORT:
The Ultimate Buyer's Guide to Co-Managed I.T.
You have a good IT department in place. But do they have what they need to be productive and efficient for your business?
This guide will provide answers to frequently asked questions about co-managed IT, as well as cost analysis and how to avoid choosing the wrong firm to partner with.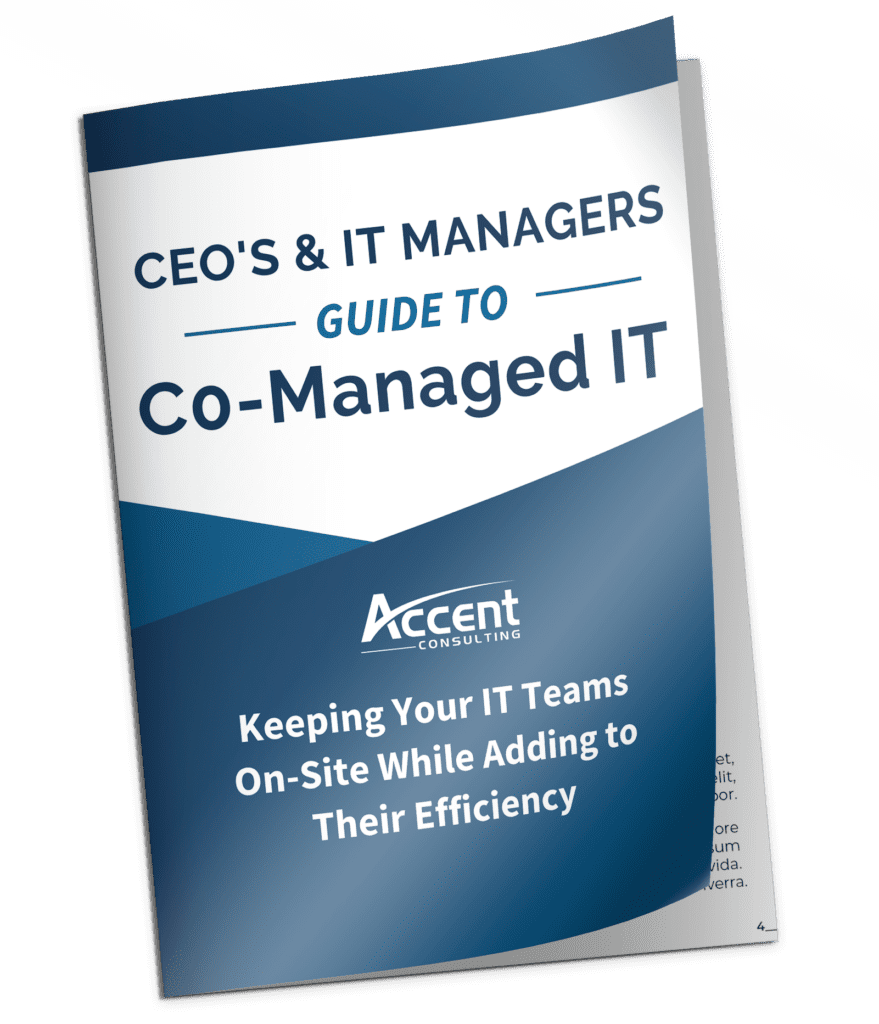 Contact Us Today
for a Free Quote
Are you Ready for
Co-Managed IT Services
Do you have an IT guy who:
... or maybe you have an IT Team that:
If your IT team can relate to any of these, you are ready to talk about Accent Consulting's co-managed services.
Accent does a great job of keeping our technology running smoothly so we can focus on what we do best.
We're your trusted partner for IT