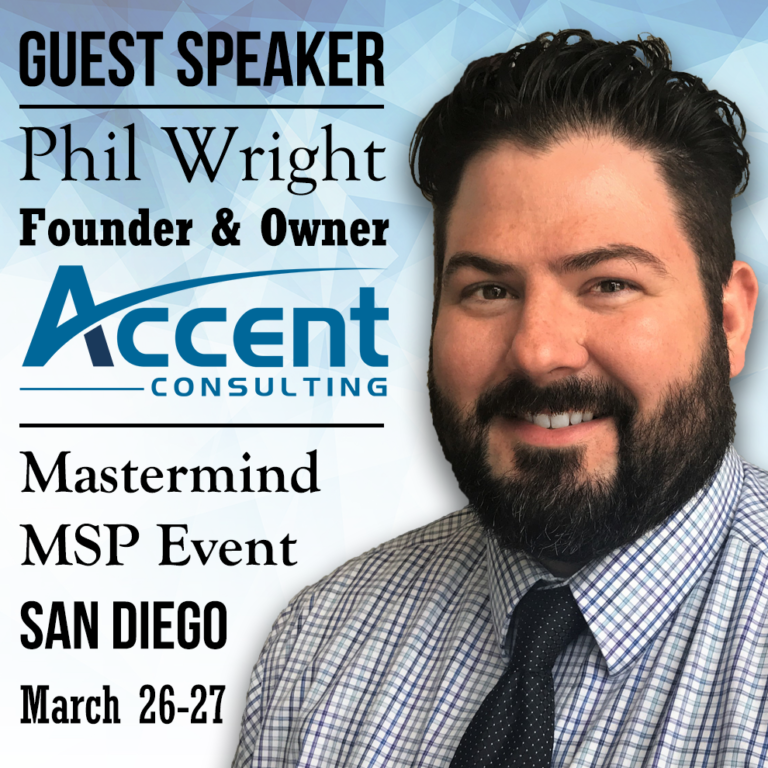 Accent Consulting founder and owner, Phil Wright, will be speaking at the Mastermind Event in San Diego on March 26-27, 2020! 
~~~~~~~~~~~~~~~~~~~~~~~~~~~~~~~~~~~~~~~~~~~~~~~~~~~~~~~~~~~~
Get the answers you need to GROW your business – GUARANTEED!!! This is a 2 DAY interactive educational event with Sales, Marketing and Growth sessions. Hear and Learn from other successful business owners around the country as they share what they did to reach their goals!
For growth minded business owners, this business conference is two days of powerful information, instruction and action to show you how to THRIVE in this economy. Each quarter we visit different US Cities. These interactive workshops will get you working ON your business and not IN it!
Leadership and Success in the Technology Industry
Sales and Marketing training & ideas
Cyber Security
Merger and Acquisitions
Google and Social Media marketing
Industry Best Practices and Trends
Cloud Computing
Peer Presentations from some of the top marketing MSP's in the country
Technology showcase from Leading and Emerging Partners
Much much more….
CONTACT US FOR MORE INFO: