How IT Can Help Ensure Your Healthcare Practice is HIPAA Compliant
Published: January 7th, 2022
With the rise of modern technology and its use in healthcare, practices are gravely susceptible to violations of the Health Portability and Accountability Act (HIPAA). This is due to misunderstandings in terms of compliance and security system failures.
What is HIPAA Compliance?
HIPAA was created with several objectives intended to improve the health insurance system and standardize the protection of medical records and individual identifiable health information, including:
Managing protected health information (PHI)

Accelerating the transfer of records to provide continued healthcare coverage

Reducing healthcare fraud

Developing consistent information for e-billing and healthcare
For a healthcare practice to be HIPAA compliant, protection and controls must be put in place for any relevant patient health information. For this to happen, an entity would have to review the entirety of HIPAA and make the arrangements necessary to their business to abide by these laws. 
HIPAA Violation Penalties could result in fines up to
$50,000
per violation.
Risks & Benefits Health Information Technology Poses to HIPAA
Health Information Technology (HIT) oversees the technology systems healthcare providers use to store and manage patient data. This also includes patient portals used to access information and book appointments, various apps and devices that track our vitals, workout routines, medication reminders, monitor sleep, and manage our stress. HIT is needed to improve and expand the following:
Quality and efficacy of healthcare
Productivity and efficiency
Accuracy and procedure adherence
Reduce healthcare costs
As with anything, there are various risks and benefits involved with using HIT. When used correctly and in compliance with HIPAA, the advantages of HIT are clear.
Risks
New risks occur as the use of technology in healthcare continues to expand and change. The biggest concern regards information vulnerability. With the use of technology to store sensitive health information, that information is much more vulnerable to hackers. With the right skills and knowledge, almost anyone could potentially obtain this information from anywhere in the world. Incorrect entries in numbers/data or typos also pose a threat to the use of HIT. These errors could result in wrong medications or incorrect dosages of such to be administered to patients, troubles in dealing with insurance companies, or potentially somebody receiving someone else's private information by accident. Also, the implementation and maintenance of these systems and the training needed to use it can be expensive. There are always new updates and versions of software, taking the time and money to have it updated and for all of your employees to relearn it can be costly.
Benefits
With increased research and testing, technologies are continuously improving and showing great potential for their role in healthcare. The use of HIT has provided patients with real-time access to their health information through the use of patient portals. Individuals can access all of their files immediately. It also makes forms and lab or medication orders easier to read, which helps to prevent miscommunication due to the illegibility of handwritten documents. One of the greatest benefits of using HIT is that health information, files, lab work, and imaging can be easily transferred between doctors. This cuts down on wasted time when individuals are switching physicians or getting second opinions. Technology also allows information to be backed up and stored multiple places in case of emergency, whereas physical copies are easier to lose, damage, and destroy. With the proper security measures in place, you can also limit the possibility of a data breach and protect patient records and sensitive health information.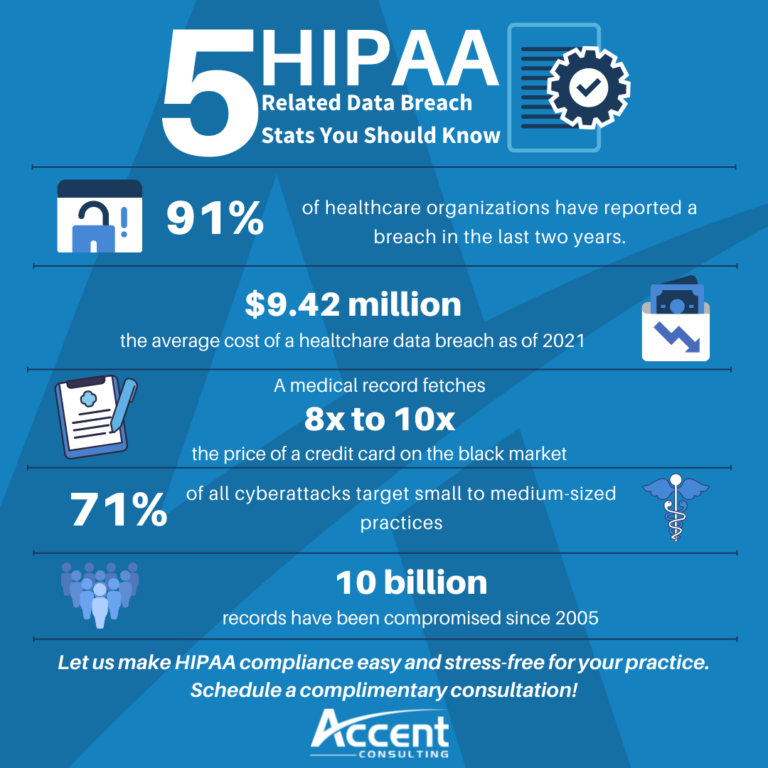 Steps You Can Take to Improve HIPAA Compliance
Businesses that fail to consider their weaknesses in technological security can cause continuous system failures. Proper preparations and training of staff on the importance of cybersecurity is essential to the implementation of a better system. Another preemptive measure to aid in increased compliance is getting a security assessment of your current network. This provides you an idea of how well your defenses are and help you develop a plan to bulk them up.
As a healthcare provider, you are responsible for keeping your patients' health information private and secure. One way to do this is to ensure that any and all of your business partners and vendors also adhere to HIPAA regulations by developing documentation that obligates them to follow the same training and auditing procedures as your staff. Another easy way to to do this is to use a checklist to determine how well you're complying and see what else you need to do to be fully compliant. Accent Consulting offers a free HIPAA Compliance Checklist that you can download below!
Accent Consulting is experienced in data security, including HIPAA security requirements and implementation, and is ready to help your organization dig through the information and understand the steps to reach HIPAA compliance. 
Schedule a Free Network Assessment
A network assessment is an in-depth analysis of your current IT infrastructure that provides you with a comprehensive understanding of your existing environment and recommends improvements such as network consolidation, simplification, or automation.
Learn More
We started using Accent Consulting for our IT needs this past year. Their professionalism and attention to details are excellent! I would recommend this company to anyone!
I want to thank the team at Accent Consulting for truly listening to my needs and developing a plan to address them. The new server migration was perfect!
With Accent, one email or call is enough to remove the burden of IT problems. The reachability and responsiveness of the staff continues to exceed expectations and the employees actually care about helping their clients. Hire Accent, they're excellent at meeting the needs of their clients with flexible service and most definitely worth the investment.
They were very prompt and knowledgeable. They did great, answered my questions and dealt with my concerns. We will continue to do business with Accent Consulting.
These folks did a GREAT job setting up our dedicated fiber line! Very professional and efficient. Highly recommend this company for all your IT needs! We liked them so much we decided to give them all our business in the future.